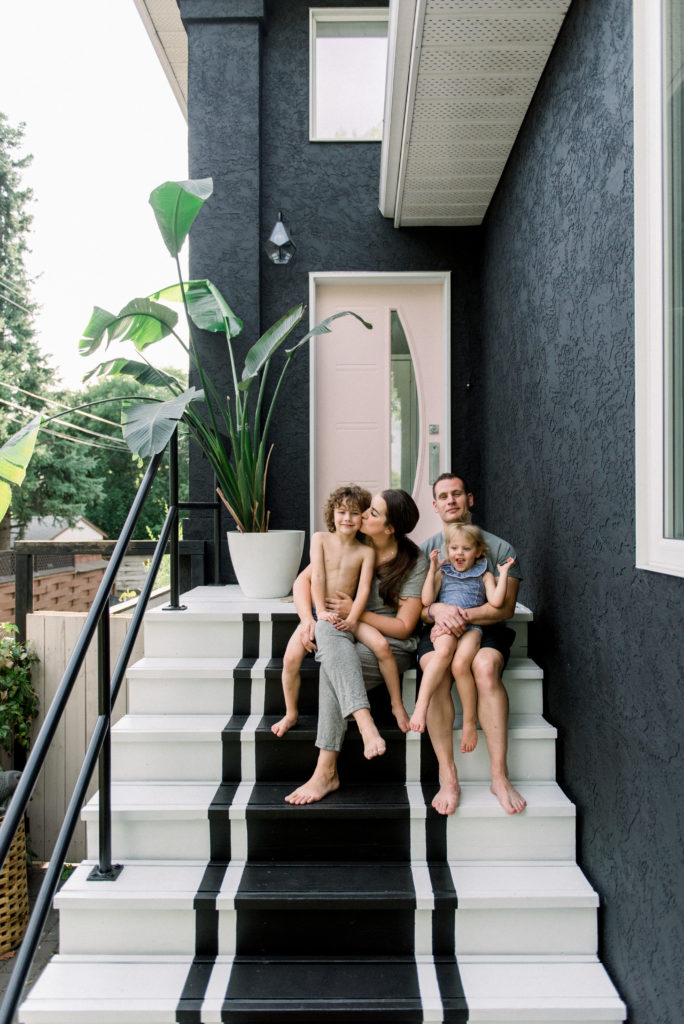 One of the biggest transformations we've taken on this year was the exterior of our house. While we put our financial focus in the first two years on the interior: bathrooms, kitchen, windows and some flooring upgrades. This summer we finally tackled this dated 1990's stucco with one of my favourite home transformations yet. For some transparency and as a disclaimer, we partnered with a local painting company Blue Nile Painting. Whom provided a discounted rate for our project in exchange for this review. I was not paid for their review, nor were goods and services completely covered. My opinions remain my own and I'm so excited to share this project with you. Now let's get into the details and of course, before / afters of the house!
Going black was a bit of a leap… over the winter I developed a Pinterest board with exterior inspiration. With the modern boxy lines of our home, a dark exterior felt like a modernization. While a bright colour may have aged our home even more. Blue Nile consulted to help us come to a colour conclusion and I couldn't be more happy. Sometimes you need the experts to weigh in to help you feel more confident with such a big impending change.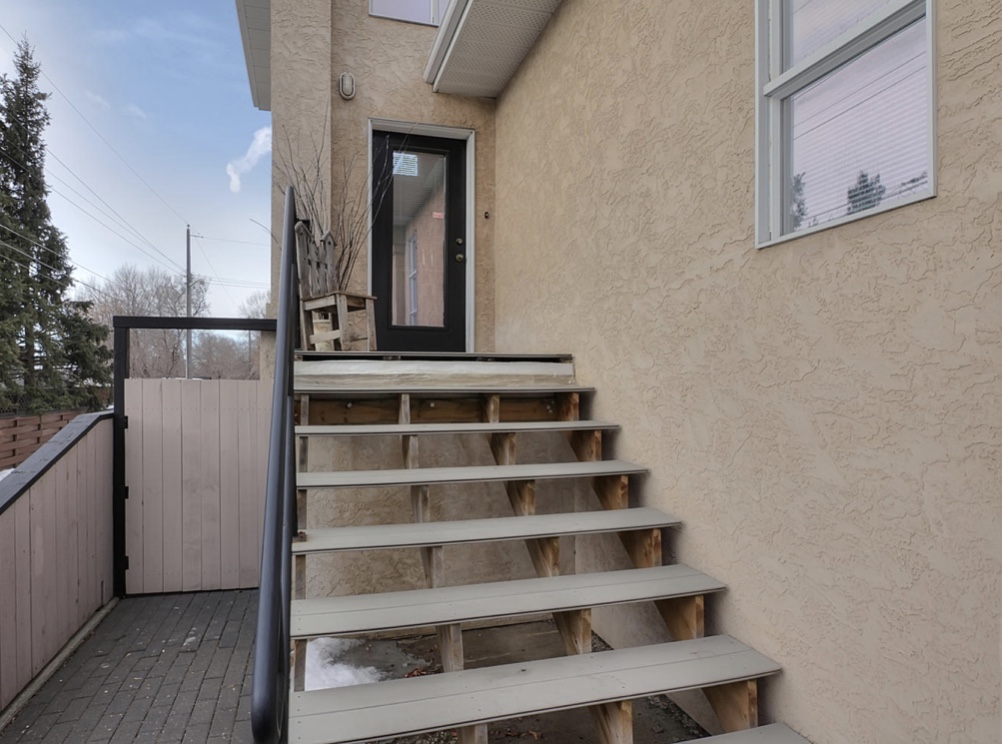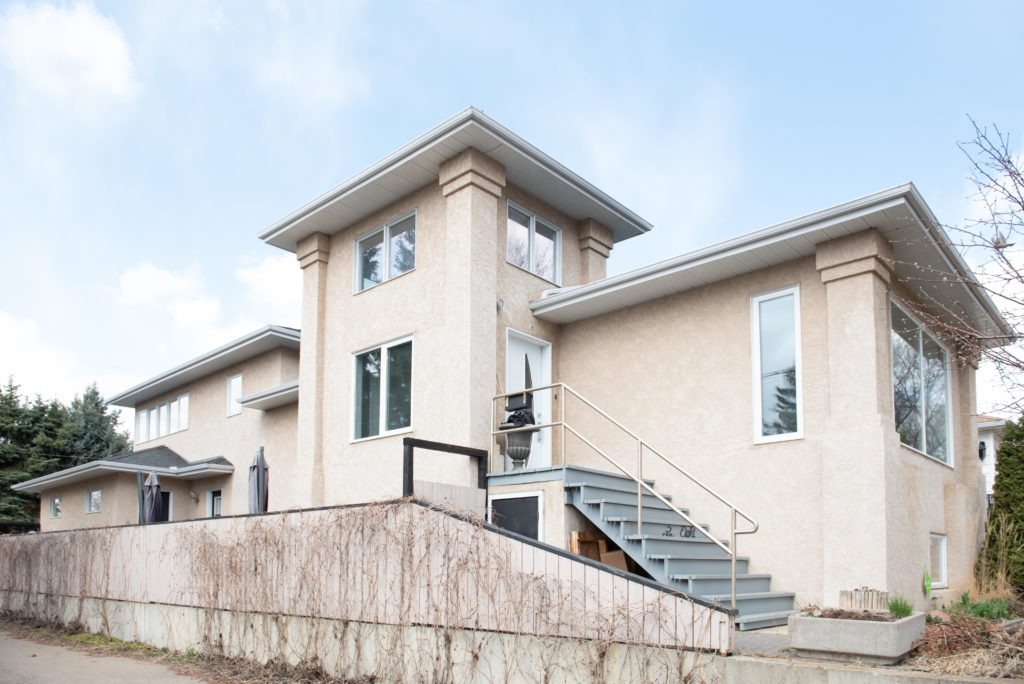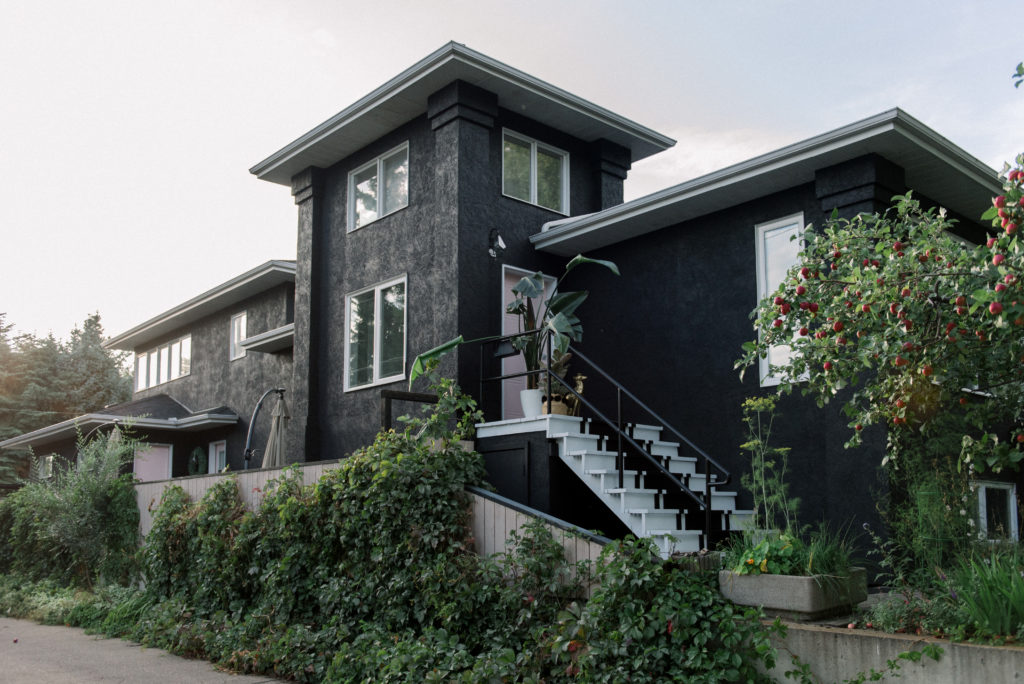 We went with Sherwin Williams "Tricorn Black" for our exterior stucco and fence. Having a dark colour on both the exterior and the fence to match our already black roof made it a modern minimalist approach to home design. For myself, it helped this project become a home update; modernizing our dated sun bleached pink stucco. But we did want to add a touch of warmth with a subtle colour to our exterior doors. We went with a very light blush called "Charming Pink" also from Sherwin Williams.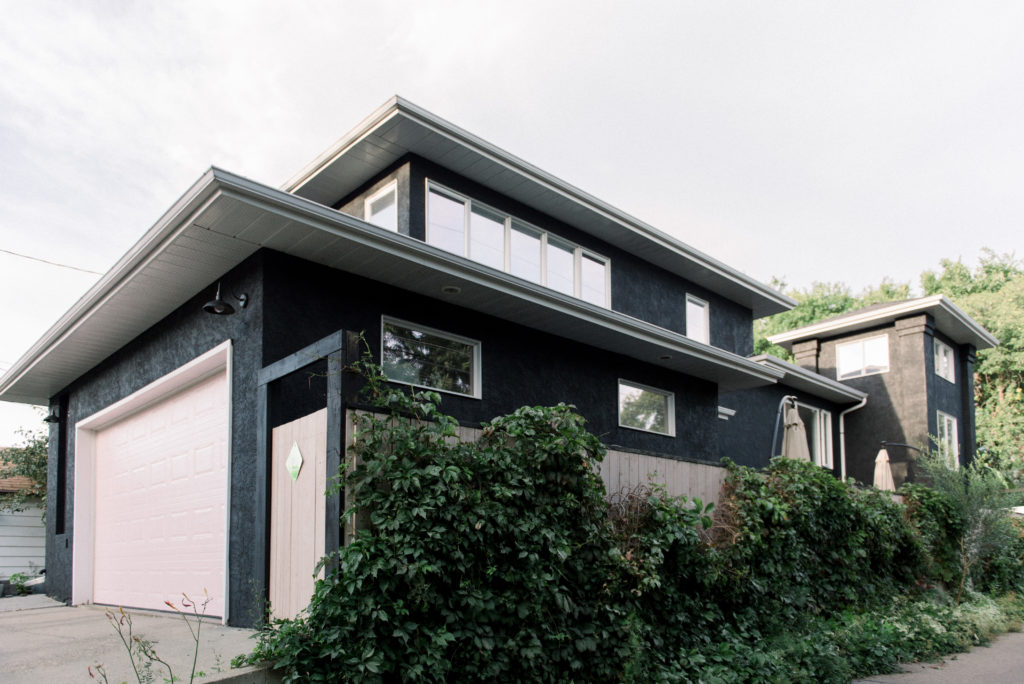 One of the biggest questions we received during the summer was why did we go with Blue Nile? Short answer, I was approached by a company that would have both paid me and provided the job costs for this transformation but when I researched that company that had approached me they got mixed reviews. When it comes to a large in your face change like a home exterior I wanted to go with a company that were experts and really stood by their work. Blue Nile pays attention to details, gets great online reviews and is locally owned. I like to support local Edmonton businesses and thus this partnership developed. I'm so happy with the work they did. We get compliments almost everyday. Hello modern black house, goodbye dated salmon pink stucco.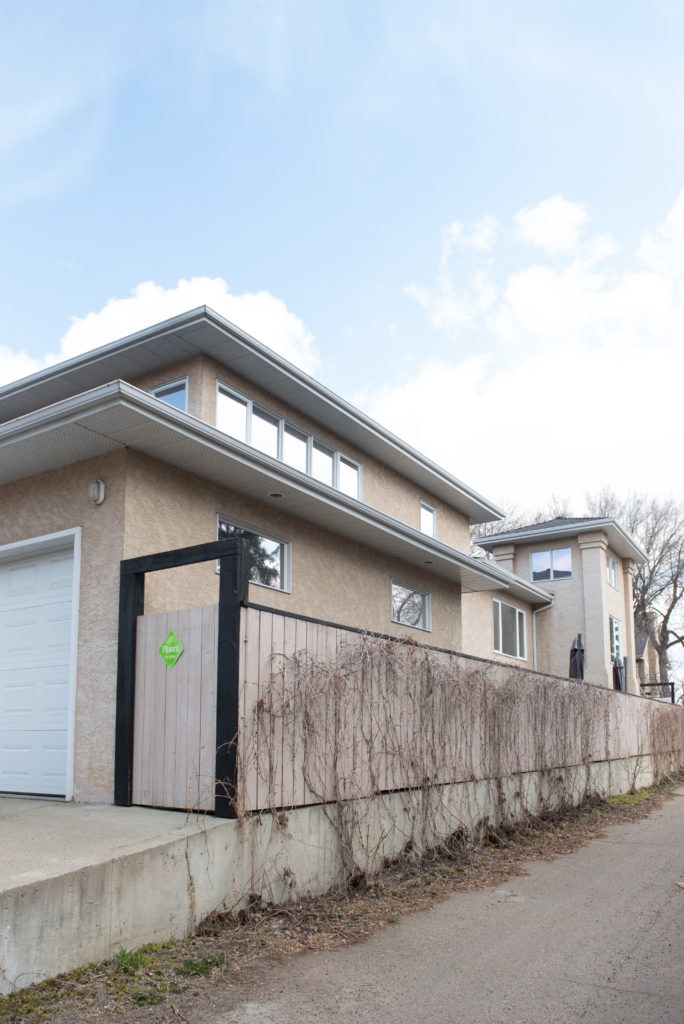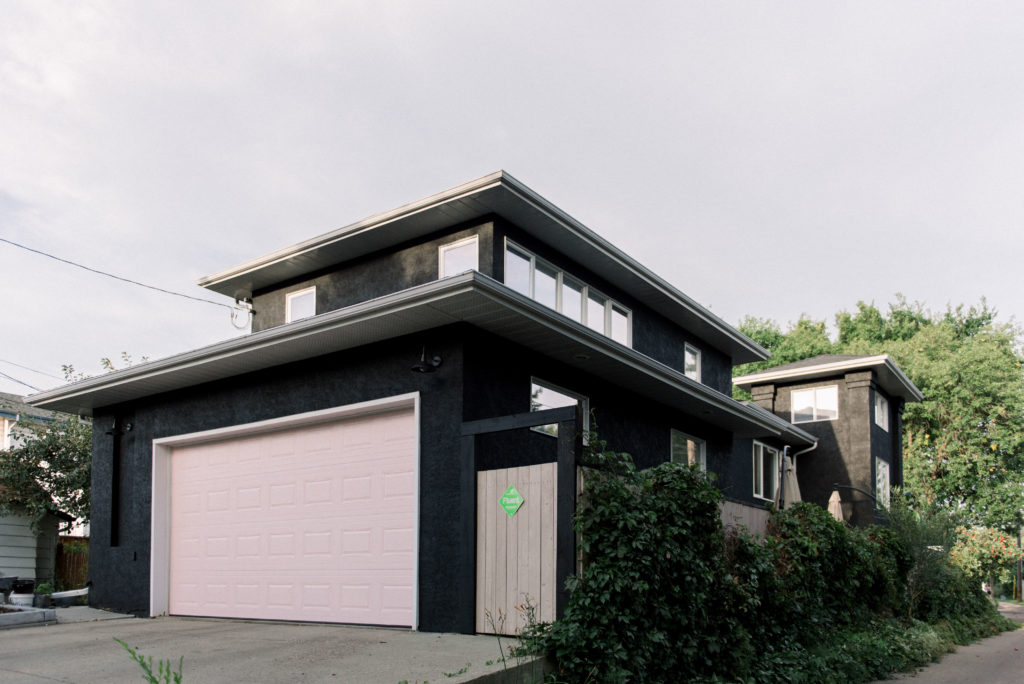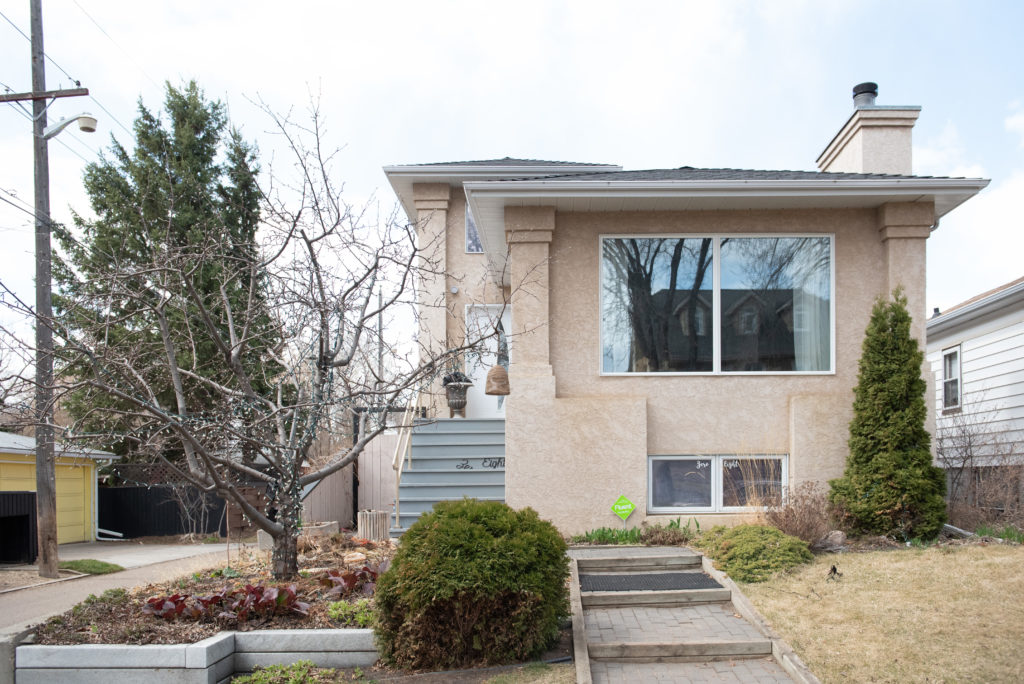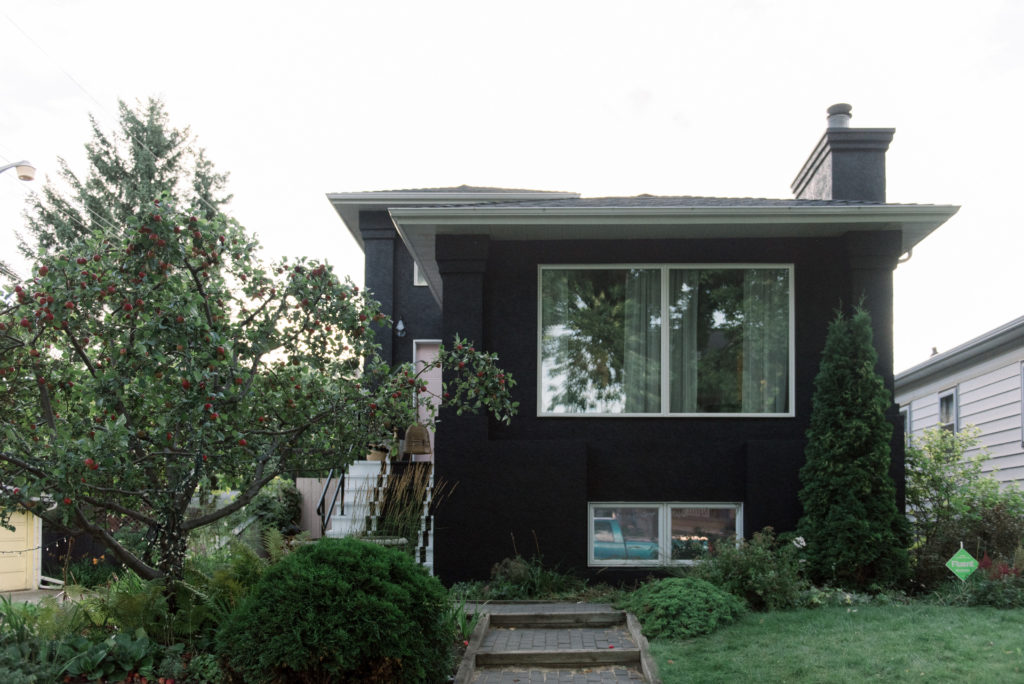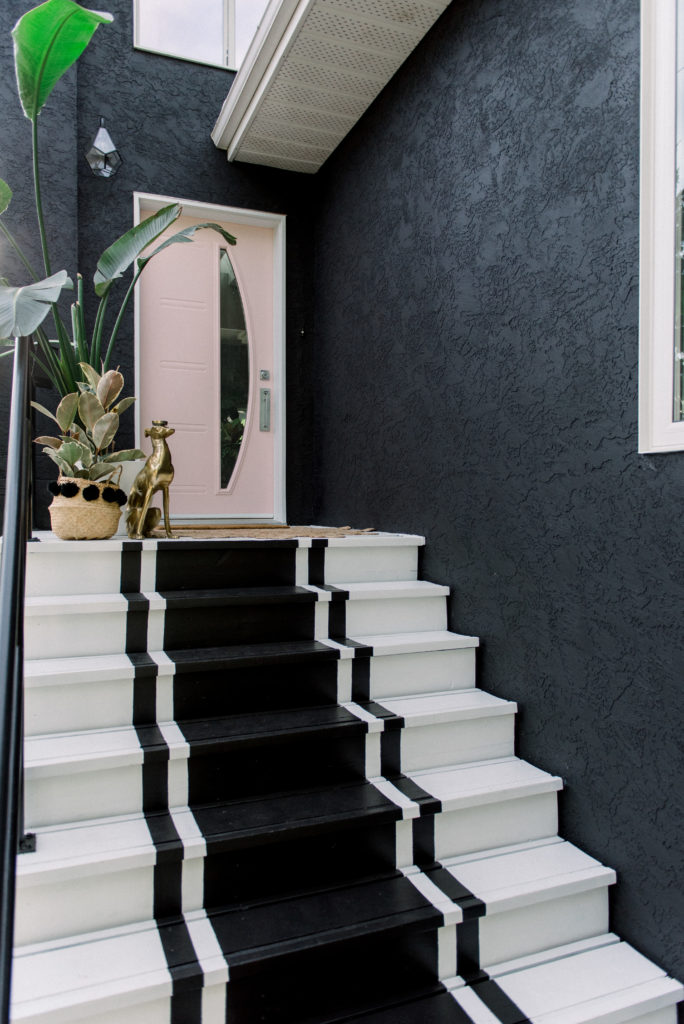 The stairs are easily my favourite part of this transforming. I showed the Blue Nile team pictures of stair runners and wanted to recreate that look with paint. They knocked the concept out of the park, their attention to detail really made this part of the project happen.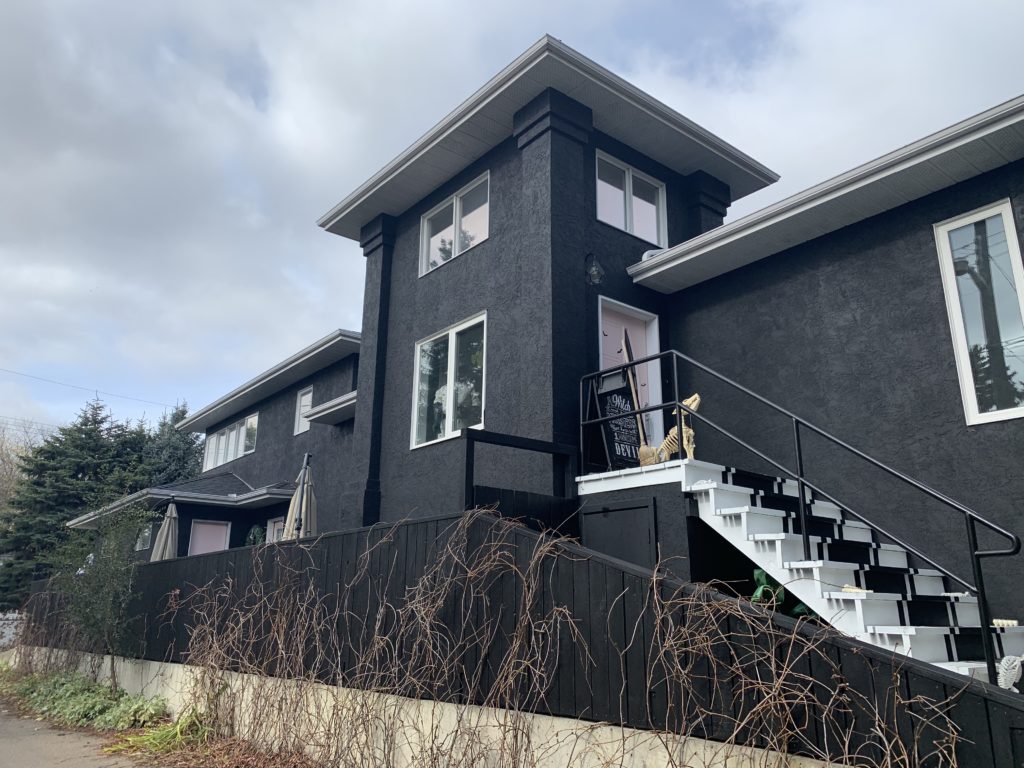 Due to the crazy wet weather conditions this summer, we waited until fall to complete the project and paint our fence. See the final completed photo above. Next summer, I think the green vines will pop on that dark fence. I hope you've loved following along with this adventure in paint. Let it inspire you if you feel stuck with a dated stucco exterior. I know leading up to this job I was a bit worried since it is the kind of project EVERYONE sees but I couldn't be more pumped with how it all turned out.