We all know I love a good mask treatment, it's easily my favourite beauty routine. I wanted to share with you the masks I've been using and loving for the past 4 months. From all natural options, to clinical I've got some great product  picks you don't want to miss. The majority of masks I've been coveting lately have fallen under the organic category, so most you can find at The Detox Market Canada. If you're unfamiliar with them, they are basically the natural Sephora! Not Canadian, don't you worry here is the American online store. If you've been wanting to add some luxury natural options to your makeup and skincare routine, they carry almost all my favourite brands. Check them out! With that being said here are my go-to masking moments as of late:
Josie Maran Whipped Mud Mask Collection (pictured above): It's on sale!!!! And I don't mean a minor discount, save $32 on my fav mud mask set. This antioxidant-packed hydrating and detoxifying Whipped Mud Mask set clarifies and refines. Find your skin nourished, moisture rich and soothed after just one use. This pack is a perfect starting point to find your mask match made in heaven, I love a good sample pack.
Indie Lee Clearing Mask: Just like it's name entails this treatment helps to unclog pores and clear your complexion. I love the smoothing effect of the fruit based acid. A must have for acne pore skin.
Facial Treatment Brush: This is a must have tool for any mask enthusiast. It takes masking at home to spa levels. Not only does it help even apply your treatment of choice. Mix, blend and apply. Treat yo self to this must have tool.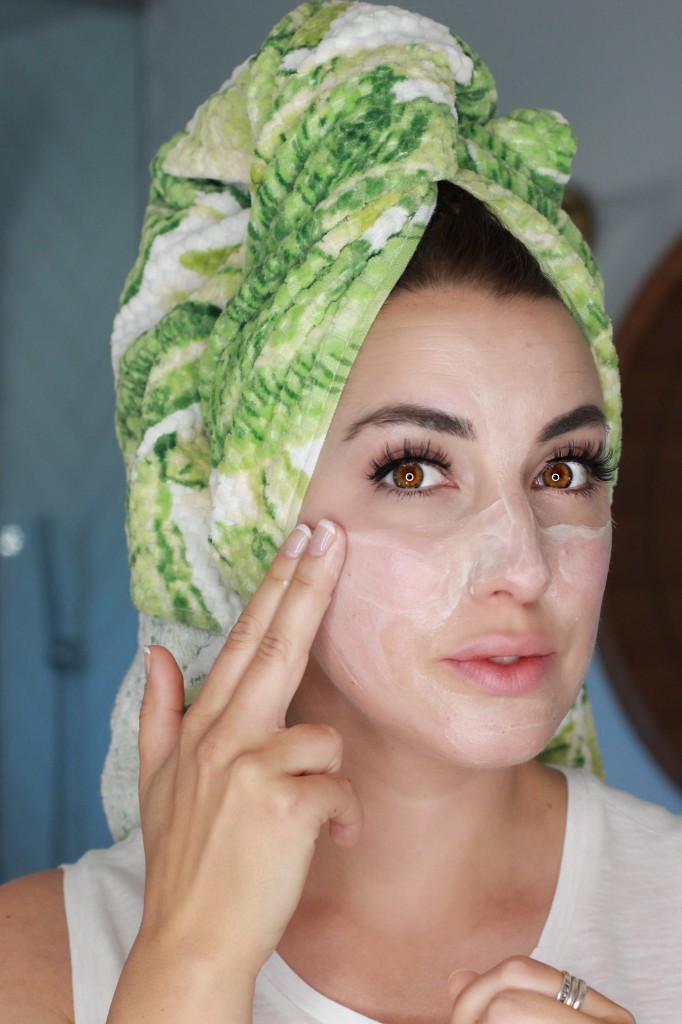 May Lindstrom The Problem Solver: This natural beauty cult classic is the mask all the organic beauty bloggers are talking about and for good reason. This intense correcting mask effectively purifies and tightens pores, extinguishes inflammations, fights & heals blemishes, jump-starts circulation in the epidermis and detoxifies skin with delightful ease and power. Yes of of that in one treatment! This is the mask to get your hands on. I love to use it as a spot treatment on my chin to help clarify that challenging blemish prone area.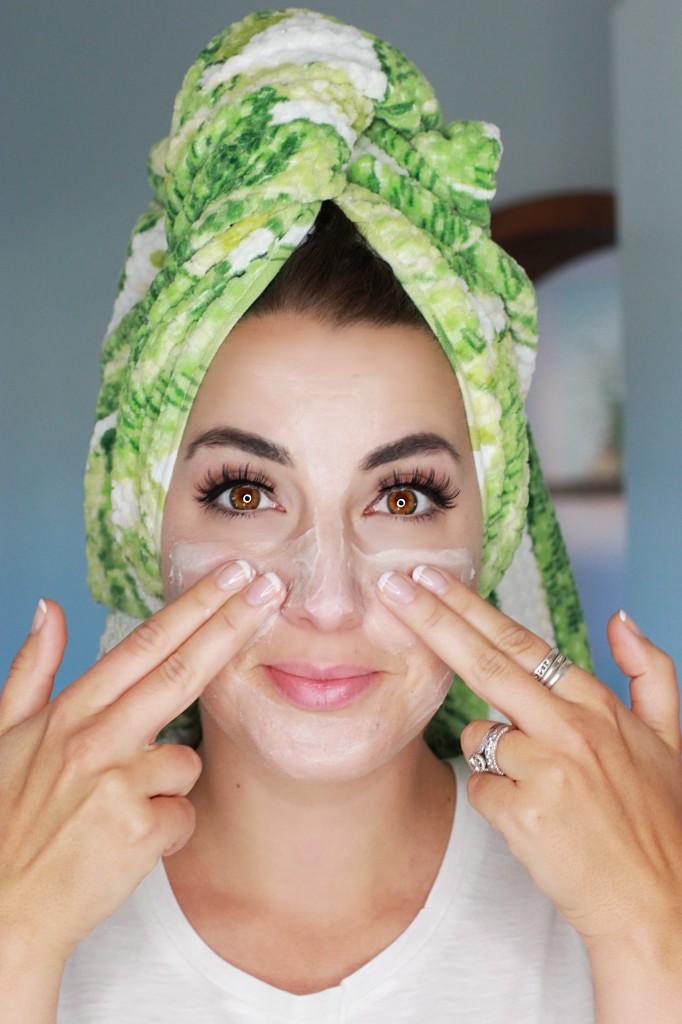 Kèrastase Maskeratine Discipline: This hair mask is highly concentrated to nourish and repair your mane. Replenish your hair into a smoother silker version of itself. I love this treatment.
Odacitè Immediate Skin Perfecting Masque: At the heart of this skin perfecting masque 4 SYNERGIES of ingredients to DETOX, PEEL, BRIGHTEN and BOOST COLLAGEN. This all around perfecting treatment is one of my favourites. I mix a small amount and target areas on my face. Instead of water, you can use apple cider vinegar to mix your own blemish spot treatment for overnight treatments on blemishes.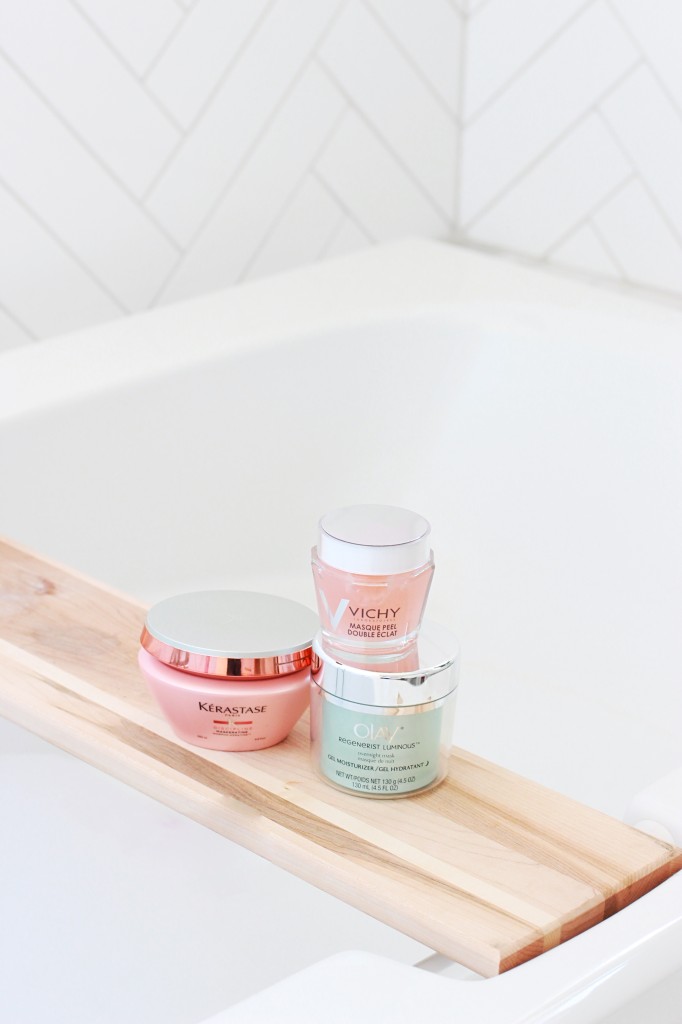 Pura Botanicals Overnight Watermelon Mask (pictured above): This overnight moisture treatment is one of my weekly go-to's. The magic power of Neroli helps your skin's elasticity and stimulates cell renewal.  It also contains aloe vera, chamomile and witch hazel: this trio has a soothing effect that will leave your skin feeling smoother and nourished overnight. 
KYPRIS Deep Forest Clay Mask: This is a natural luxury spa treatment in a jar. I love this luxurious detoxifying clay mask leaves my skin smooth and bright. It's a must have for any beauty junkie.
Vichy Double Glow Peel Mask: Packed with Vitamin C, volcanic stones and AHA, this treatment gel is a must have for those seeking a brightening boost.
Olay Regenerist Luminous Overnight Mask: This overnight gel based treatment completely soaks in with no peeling needed leaving skin hydrated and glowing. I love the you can see results after one treatment but using for a few weeks feels skin looking even more radiant. I use it weekly to hydrate and reset my skin.