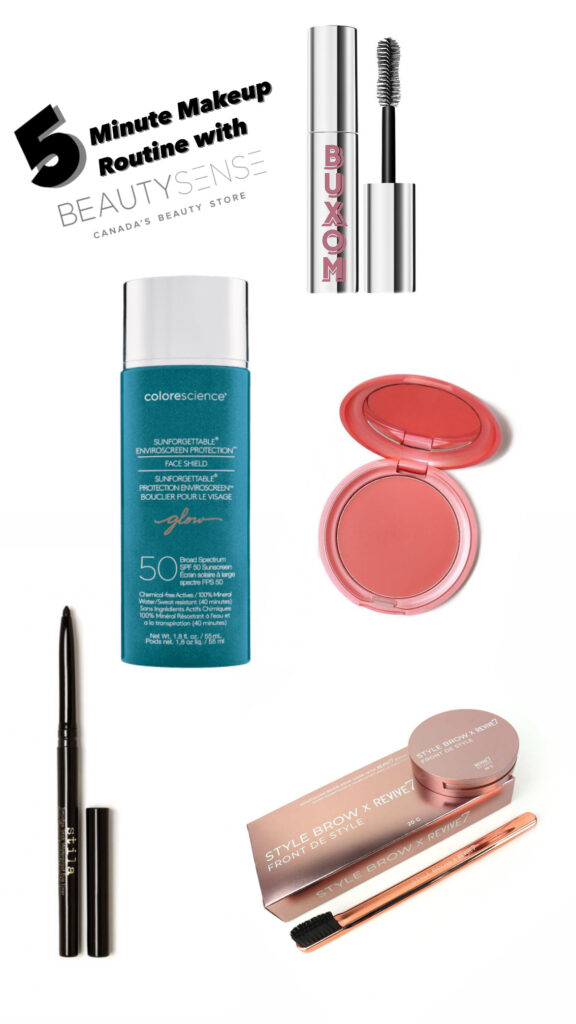 I'm so excited to partner with Beautysense to share my fast morning makeup routine. BeautySense.ca is a Canadian online store for all things skincare and cosmetic. You are sure to find what you're looking for in their extensive product selection. They carry some of my favourite brands: stila, colorescience and more. It was easy to shop for my refill products that I use daily and have them conventionally shipped right to my door. All the products I'm going to share below are tried and true for me. I've used them for long periods and purchased refills. They are my go-to beauty products to look polished in minutes.

Here are my five products I use almost every morning:
Colorescience SPF 50 in glow. This product is a definite multitasker. It is slightly tinted to even my complexion with a highlighter built in. And of course, my sun protection for the day! This is my second bottle this year! I love this one. Even when I'm not wearing makeup, this will be the only product I apply in the morning. I can't get enough of this natural sheer coverage with a hint of sun kissed glow. This is included in a kit ON SALE currently and comes with the brush on powder spf that I love to throw in my purse for on the go touch ups.

Stila: Convertible Lip & Cheek Colour. I tap this very blend-able cream based formula onto: my cheeks, lips, bridge of my nose and eye lids! I look flushed and ALIVE in seconds. I've bought the petunia shade three times in 5 years, it's a must have product for me.

Stila: Smudge Stick Waterproof Eye Liner. Hear me out, I know what you may be thinking, eye liner as an easy makeup morning routine! Come on Kira! I tightly line my outer top lash line only. And it's waterproof and doesn't go anywhere with my sometimes watery eyes.

Buxom: XTROVERT Mascara. This intensely volumizing and buildable mascara is all about the brush for me. It has a large natural bristle with an innovative, X-shaped for extra volume. I curl my lashes and do one coat of this. I get so much volume quickly, I love this mascara.

Revive7: Style Brow X Revive7. This brow styling kit is so good. We all know I love big fluffy almost laminated brows. This formula has an instant thickening effect with extra hold for beautifully styled brows all day long. And I can't get enough of that brush! Has my brows looking great I'm seconds.

Disclaimer: Beautysense partnered and paid for this blog post but my thoughts and opinions remain my own.