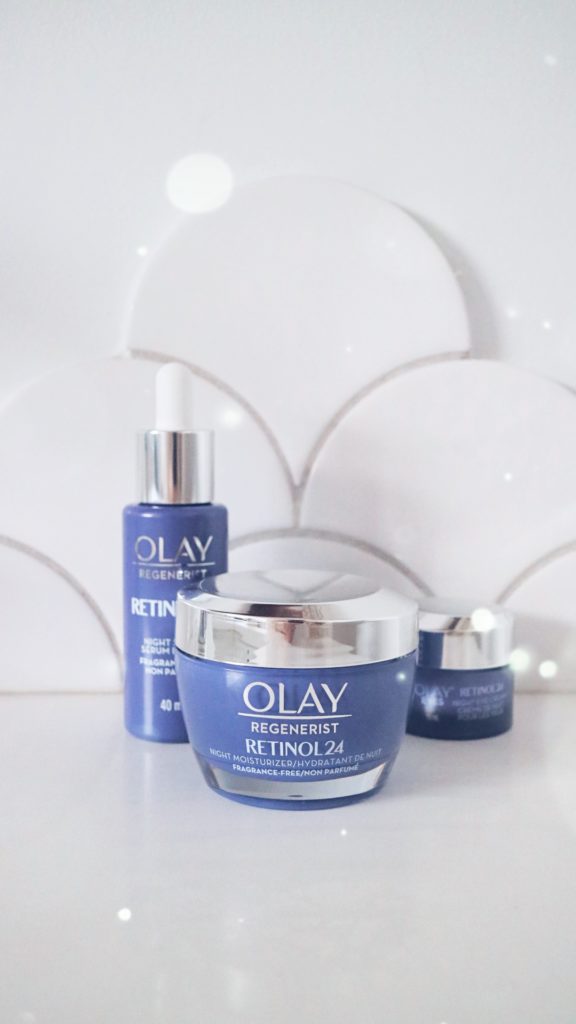 When Olay approached me to test the new Retinol24 line over the next month I was so excited to jump at the opportunity to transform my skin! I'm going to share EVERYTHING with you.Before and after photos… close up with no makeup on. I know for myself, I can get a bit frustrated when I only see ads for skincare that are edited, photoshopped or the model is wearing skin makeup! I want to see the skin, am I right? With that said, I'm both excited and nervous to bare it all. So please come back in about a month to see my results, for now let's chat all things Retinol and answers you may want to know before starting your own skin transformation.
What is retinol? Actually, retinol is a form of Vitamin A – there are many other forms which are collectively named retinoids. They can brighten and smooth skin while fading signs of damage, like scars, sunspots and wrinkles. Many retinol products can be irritating, causing redness, flaking, dryness and sensitive skin – the opposite of a new-skin glow. Don't. Panic. This might mean the retinol level is too high, you've been given the wrong type of retinol for your skin type and concern, or the formula was not optimized for daily use. In the past, I've used a pricey high % retinol product and had just that: so much irritation. I quit it and definitely was a bit apprehensive about using it again.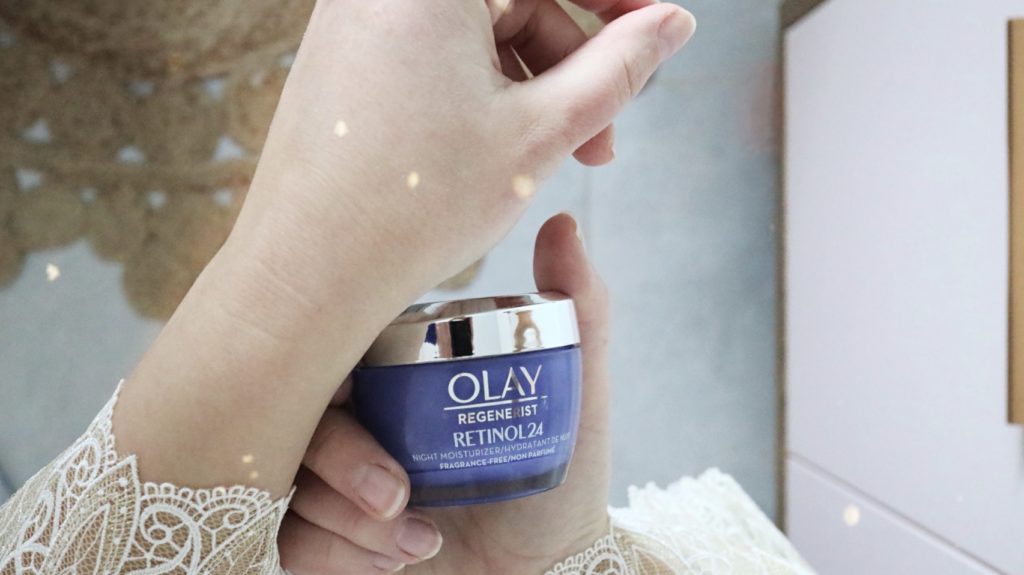 How does retinol works? It works by encouraging your skin cells to turn over faster than they would normally, making way for new (and improved) skin. Basically it's like spring cleaning for your skin: out with the old and in with the new. I was almost shocked in my first week how much dry dull skin came off!
When should I use Olay Retinol24? Use it at night. Retinol as an ingredient is sensitive to UV rays and can break down when exposed. With that said, please make sure to use SPF in the morning before you head out into the sunshine for the day! We all know how much I preach about SPF. It should be the start toeveryone's morning routine.
Should I use all 3 of the Olay Retinol24 products? You can, but the collection was designed to be a 'pick and choose' collection. Meaning, wedeveloped 3 equally effective products so you can chose what works best with your current routine. For myself, I am testing all three products currently but I'm leaving towards the moisturizer as my favourite from the line.
What's the difference between all 3 Olay Retinol24 products? They all have the same formula. The main difference in texture and form. For example, the eyecream designed to stay in place, so there is less chance it will run into your eyes. I would call it a thick base to the formula. Compared to the serum which is more fluid and liquid like. If you like light weight product the serum will appeal more to you.
Can I use Olay Retinol24 everyday? You can! This is one of the unique aspect of this collection. One of the many pieces of feedback I've heard online in the past to do with Retinol in general is that people can experience redness, irritation or dryness with a retinol products. . However, Olay Retinol24 is gentle enough to use everyday! And it's fragrance free!
When and why should I start using it? Retinol is very versatile, anyone can use it! You can start in your mid-twenties to help preventaging – prevention is key! Or Olay has seen great results with lessening fine lines and wrinkles. Plus, most people see an improved brightness and tone, and reducing dark sports and acne scars.I'm excited to work on my fine lines, a few dark spots I've seen come up in the past few years and just my overall skin tone.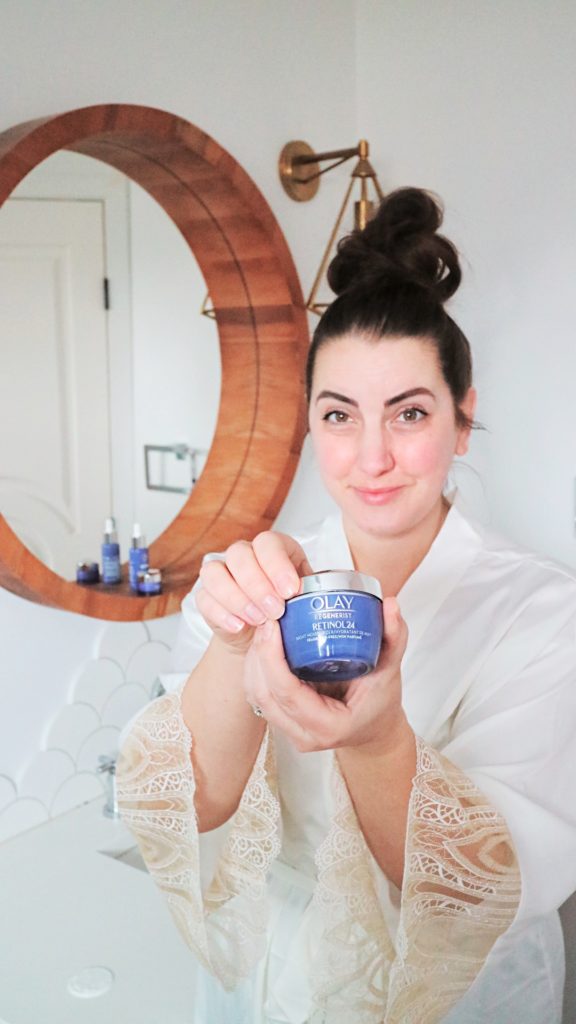 Does the % of Retinol include in the product make it more effective? I've seen many productsout there with a higher %. Because I love skincare and this isn't my first retinol experience, I had a similar question. I asked the Olay team, and they said that the % of the retinol doesn't necessarily indicate whether a product will be effective or not. It's about how much actually enters your skin. Olay measured some other retinol products on the market and found that regardless of the % of retinol, the amount that entered skin was a lot lower (even top prestige products!). Olay Retinol24 was formulated with this in mind – they focused on the amount of retinol that actually penetrates theskin. That's why you see improvements in your skin in as little as 28 days!
Will Retinol dry out my skin? I've experienced some dryness and flaky skin in my first few days. I added a mild exfoliate to my routine. The Olay Retinol24 formula will over time allow my skin to hold more water. So I'm pushing through the first few days to allow my skin to get to the point where it's more moisturized.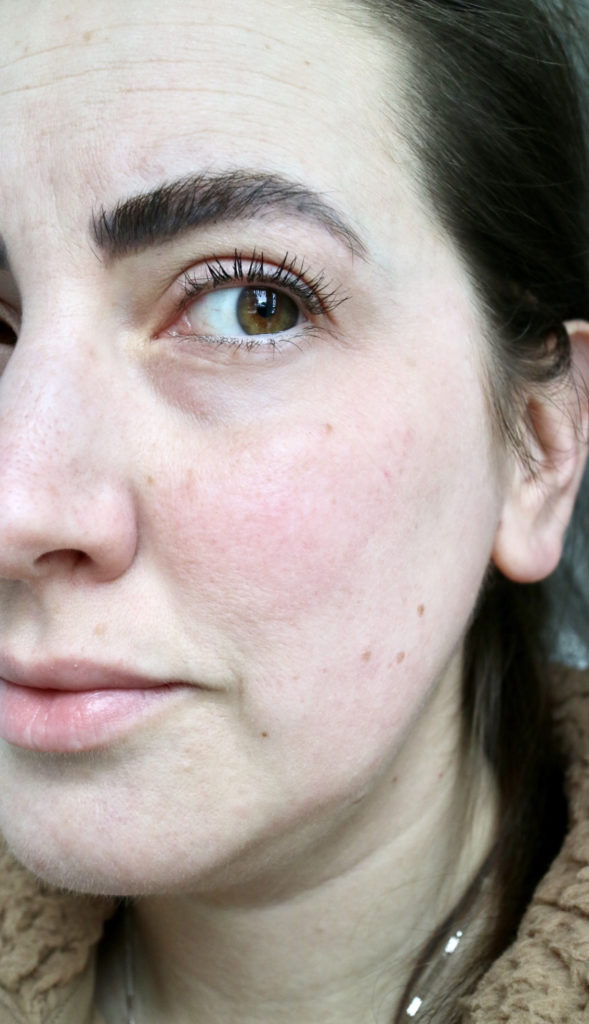 I hope you saw your question answered above about Retinol and please come back in a month for me to share my complete review and up close unedited results. See you soon!
Disclaimer: This post was sponsored by Olay