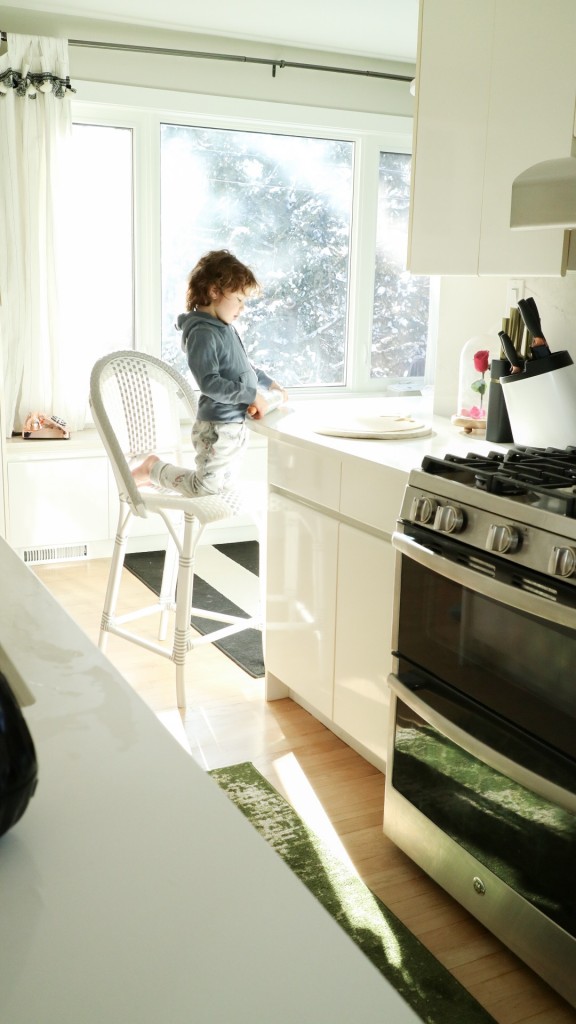 Every year is the same, we have an afternoon of baking in hopes of making a large quantity of my Mom's famous sugar cookies with a simple butter cream frosting. It's a family tradition to make something yummy for the people we love… and I LOVE to do it together. This year was made even easier with the addition of my new GE 6.8 Cu. Ft. Freestanding Double Oven Gas Range. We had both ovens going with so much rack space for cookie trays, we breezed through our baking this year. The Air convection systems uses an innovative fan that rotates one way, then reverses direction to allow heated air to circulate evenly around whatever you may be cooking. Our range is easily one of my favourite features from our kitchen reno update late last year. This GE Gas Range makes everyday cooking easy for us as a family. I love the edge-to-edge cooktop.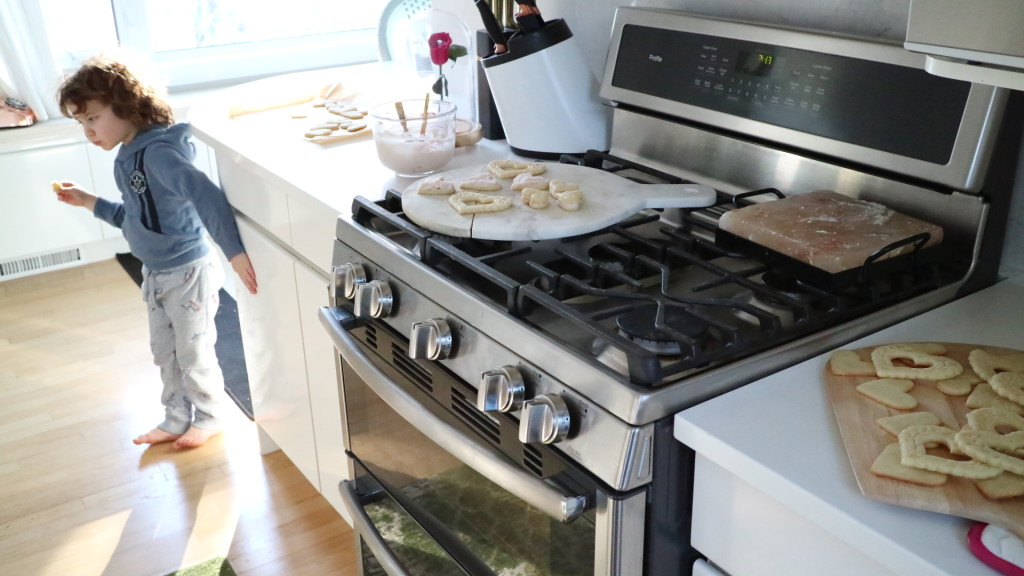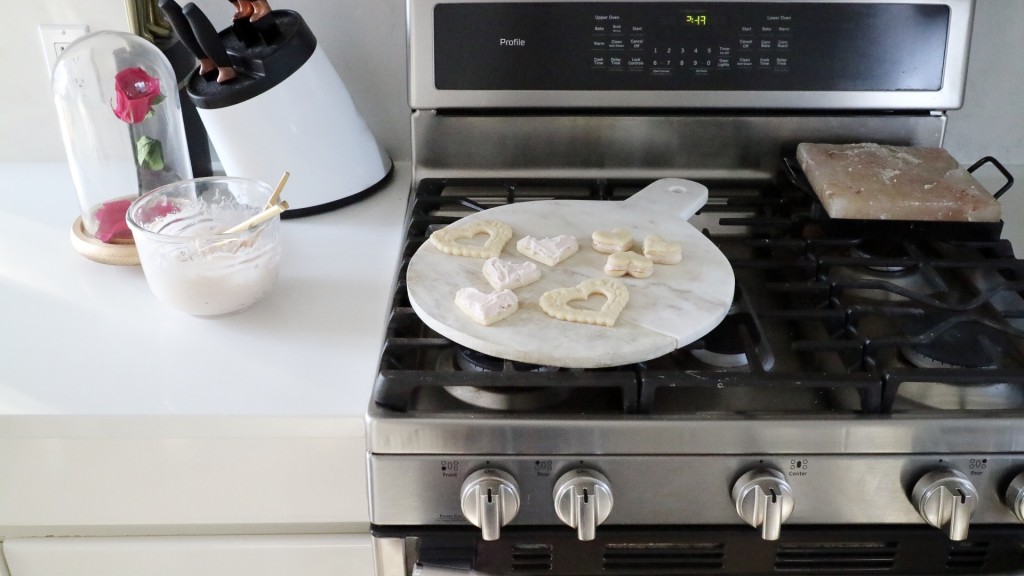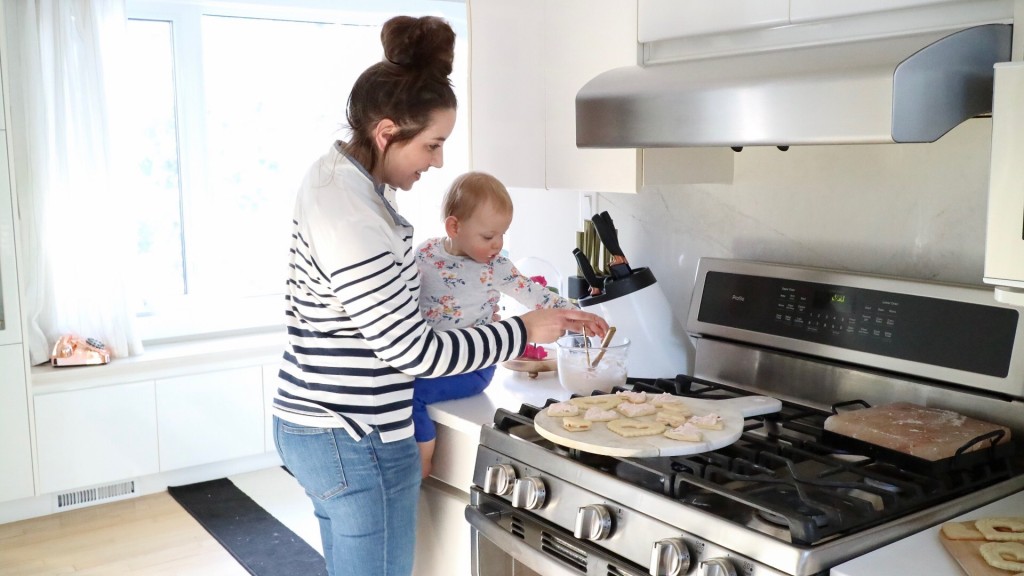 We've always used a variation of The Joy of Cooking Sugar cookie recipe. It's fast, easy and fool proof for a non-baker. Here's what you'll need to do:
Preheat your  oven to 350 degrees F. In my case, preheat BOTH ovens. Don't forget to lightly grease a few cookie sheets.
1 cup unsalted butter, soft is best.
2/3 cup white sugar
1 large egg
1/4 teaspoon baking powder
1/8 teaspoon salt
1 1/2 teaspoons vanilla extract
2 1/3 cups all-purpose flour
Using an electric mixer, beat the butter and sugar until very fluffy and well blended. Add in the egg, baking powder, salt, and vanilla until evenly incorporated. Stir in flour until the mixture is well blended and almost smooth.
Cook for approximately 7 minutes. Depends on the accuracy of your oven temperature. So I like checking around 6 minutes to make sure you don't burn any batches.
Remove from baking sheet immediately to start cooling.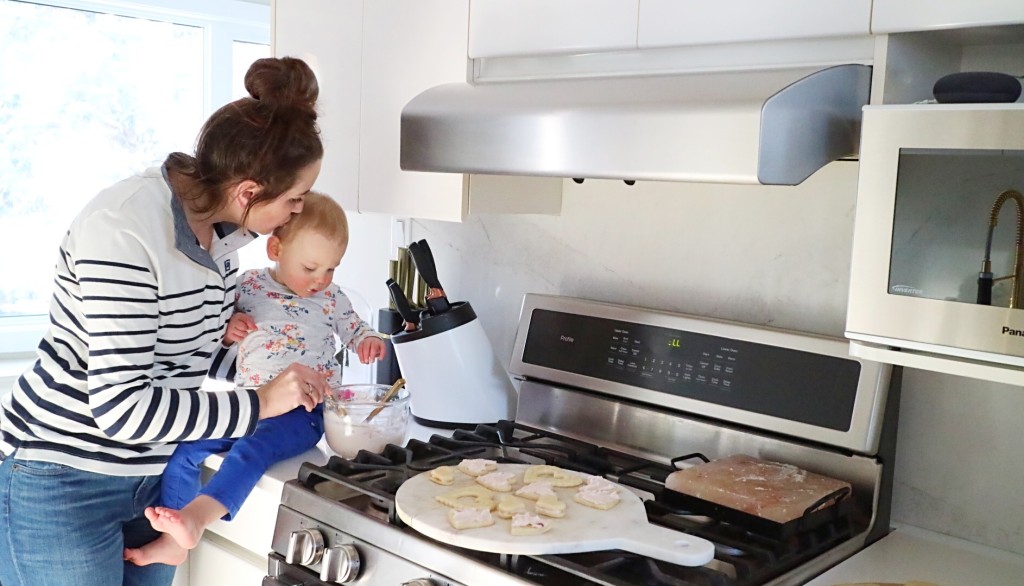 Now to do the frosting.
In medium bowl, mix powdered sugar and butter with spoon. Stir in a dash vanilla extract and 1 tablespoon of the milk.
Slowly add milk and beat to make frosting smooth and spreadable. If frosting is too thick, beat in more milk, a few drops at a time. Instead of food colouring, I used a heaping spoonful of our fav raspberry jam for both flavour and color!