I think this must be a January thing but I've just spent the entire week purging the house. More notable, the kid's clothing and my glassware. I need my monthly brunch session more then ever! In the past month, I've gotten quite a few emails wondering why I changed out my dining set, why I choose the Bari set from The Brick and how much storage my sidebar really has. So I wanted to do a Dining Q&A, hopefully answering the questions some of you may be having in your redesign / organizing January mood. Let's get right to it:
Why did I redesign my dining room after only one year? Why the Bari set? 
Short answer, my previous table was about 1.5 -2 feet too long for the place. We have access to our kitchen from each end of the table, over time it was very apparent that I had picked a table far too big to make my space functional for everyday. Did I love the ample seating, YES! We host dinners and brunches often but the Bari set fits our space so much better for day to day. And I don't find it too tight adding a few extra chairs for Sunday dinner. I'm lucky enough to work with The Brick, I found a modern table set that was slightly smaller but still, if not more stylish than my last table. I love this new modern space.
How much storage does that sideboard really have? 
The big question related to the functionality of my space, was the additional of this Jade server sideboard. Obviously, with my window I cannot have a large curio cabinet that would have floor to ceiling storage. If I had the wall for it, I love the Keswick Hutch, I highly suggested it if you had the space for it. But in all honesty, our Jade server has almost just as many shelves and because the top is at waist level, I love to add design accents and seasonal decorations to our dining space. The top can also serve as a food station when serving several course meals that involve many large serving plates. And the closed storage is perfect to hide clutter or mismatched plate sets. I hide ALOT in that server, it's an organizing must for a dining room.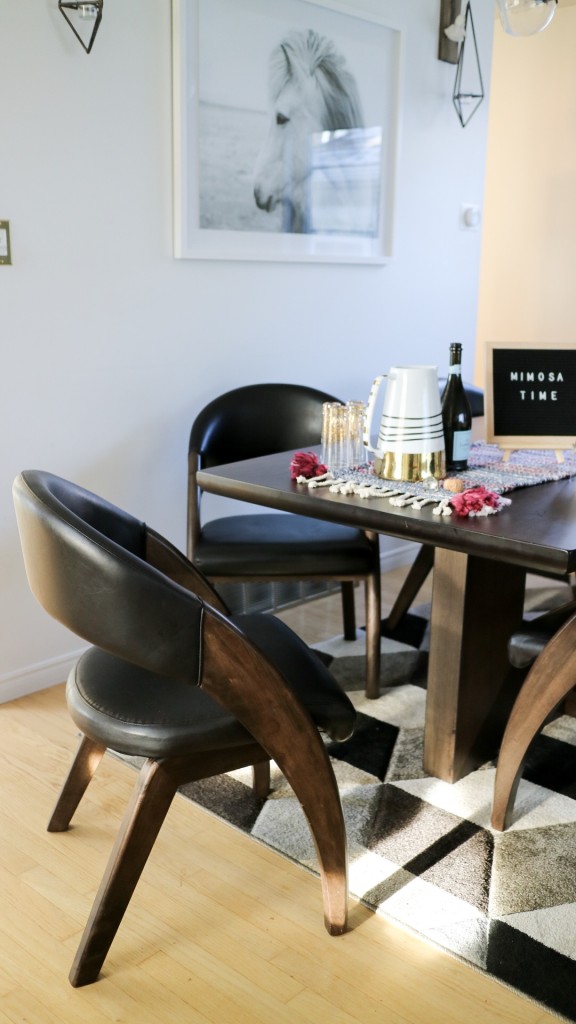 Thank you so much for the questions via, the blog, email or social media. I'm happy to help!
Disclaimer: This post was paid by The Brick, but my thoughts and opinions remain my own. My design choices are my own and these words were not dictated by the brand.