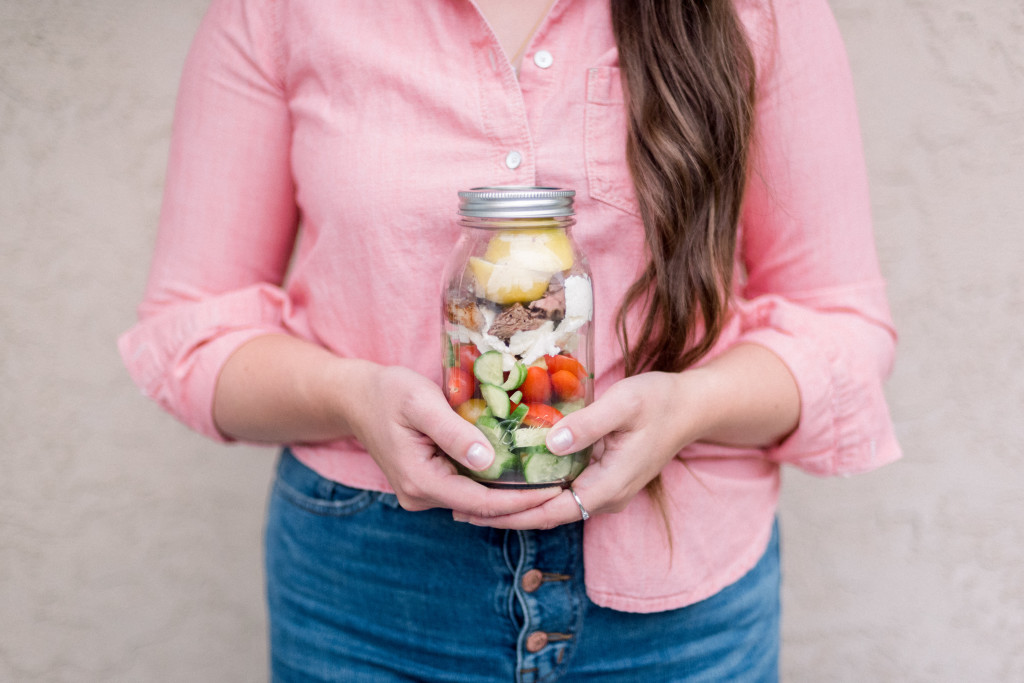 Over the last few months I've partnered with ThinkBeef.ca. One of the concepts I learned was how important the role of meat plays in the health of the Canadian population along with other foundational foods like fish, grains, legumes, dairy, fruits and vegetables. I was astonished to find on average, over half the women in Canada and boys ages 14 to 18 years, don't eat the recommended servings of meat and alternative servings daily. I had mentioned on my Instagram, after taking the quiz on Thinkbeef.ca I learned just how nutrient dense beef really is. It contains much more iron, B12 and zinc than chicken at a comparable fat and calorie content. Compared to chicken, you would need to eat 7 servings of chicken (75 g cooked) to get the same amount of B12 as provided by 75 g of lean beef. With that said, beef truly inspired this easy Mason Jar recipe my whole family enjoys.
Serving Size: 4
 Ingredients: 8-10 oz steak (rib eye is my preference), crumbled feta cheese, container of small tomatoes, 1 purple onion, 1 large cucumber, olive oil, 2 lemons, greek seasoning of choice, pepper, and sea salt.
Add salt and pepper liberally to both sides of your steak, grill to desired internal temperature (for this recipe I do medium).
While the steak is cooking half three cups of tomatoes, slice one large cucumber, and dice 1/2 cup of purple onion.
In a small bowl, squeeze both lemons and add approximately 1/3 a cup of olive oil. Stir in 2 tablespoons of greek seasoning (I love souvlaki). Salt and pepper to taste.
Pour dressing into the bottom of 4 small mason jars, layer in crumbed cheese, greens (tomato, cucumber, purple onion) and steak.
Shake before serving.
Eat immediately for best results or store in the fridge to eat within 24 hours
As an alternative, if you are not looking for a KETO friendly recipe adding 1/3 a cup of brown rice as the first layer on top of the dressing is a great option. Also, to be budget friendly pick up a flank steak and slow cook in water, salt, pepper and water for approximately 6 hours to make as tender as a ribeye steak.
Disclaimer: This sponsored was paid by ThinkBeef