Patio season is in full swing! I love an outdoor space, it's easily my favourite "addition" you can make to your home.  By that, I mean creating an outdoor living place can essentially add another room or two to your home. In my case, I've added an additional living-room and dining spot with some help from The Brick. A patio space can be an investment but it does provide additional living space much cheaper compared to adding an actual structural additional to your home. I've included my 3 must have components to help create a well rounded and multifunctional outdoor living space:
"Create Several Different Types of Seating"
I want my guests to feel at home and stay away on our patio. So I added both dining and lounge seating. We've been enjoy many a meal in the sunshine with the Park Terrace Patio Dining Set! Featuring durable resin rattan wicker on the chair and table frame, this set will look sleek and sophisticated in any backyard setting. After dinner, take in the sunset and have conversations by the fire with a lounge set. The Park Terrance set (pictured) is 2017 model, but this year's set renamed The Morris is great too built with the same durable material. Double the seating, double the function of the space. Adding multiple forms of seating will help you stay out longer on your new patio.
"Provide Safety from the Sun and Heat by Creating a Little Shade"
The heat from the sun is very real! To avoid a place too hot for most guests to handle try to incorporate some shade in the form of beautiful umbrellas. It can cool down a space and provided that much needed break from the sun. These tilting options pictured are still available in store at The Brick. If you're looking for an online find the Tilting-Top Umbrella will increase your shade to cover large groups, while its dark colour will add character to any outdoor space.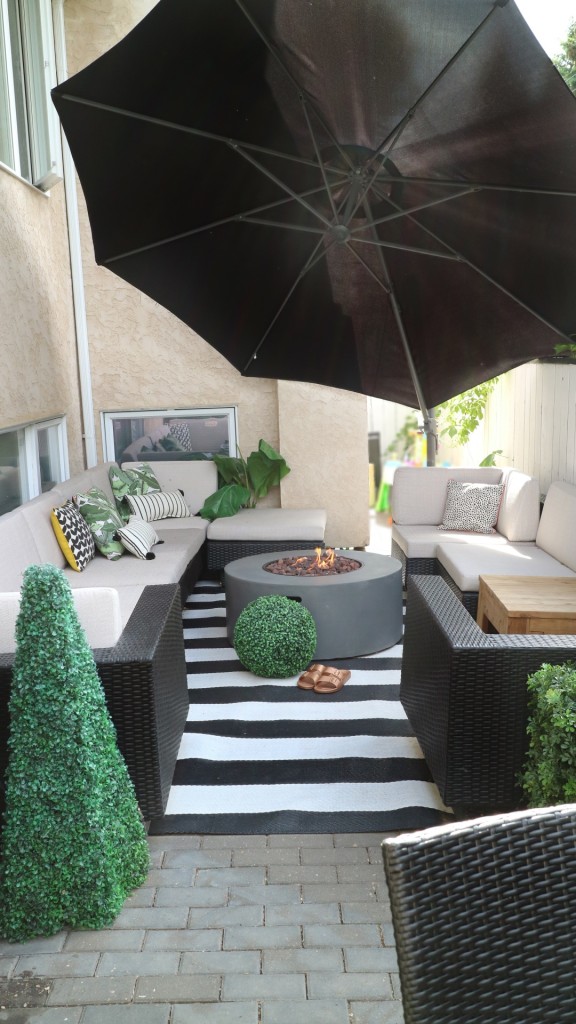 "Create a Mood"
I love to add a fire table and greenery to an outdoor patio. The ambience of the fire at night. The feel of the lush greens. Every little detail can add to the look and feel of your space. We love to sit by the fire at night for drinks and dessert. Our fable table is sold out from The Brick but if you're looking for a round option similar to mine this Granite Top is perfect.  I also love the modern feel  of the Fiji Fire Table. The flame cauldron is a partnership of grey steel and glass, the perfect display case for the two-tier flames that jump up from the bowl of lava rocks. Consider the little things when adding accessories to a space. Pillows and plants are an affordable welcoming touch too.
Disclamer: This post is sponsored by The Brick.