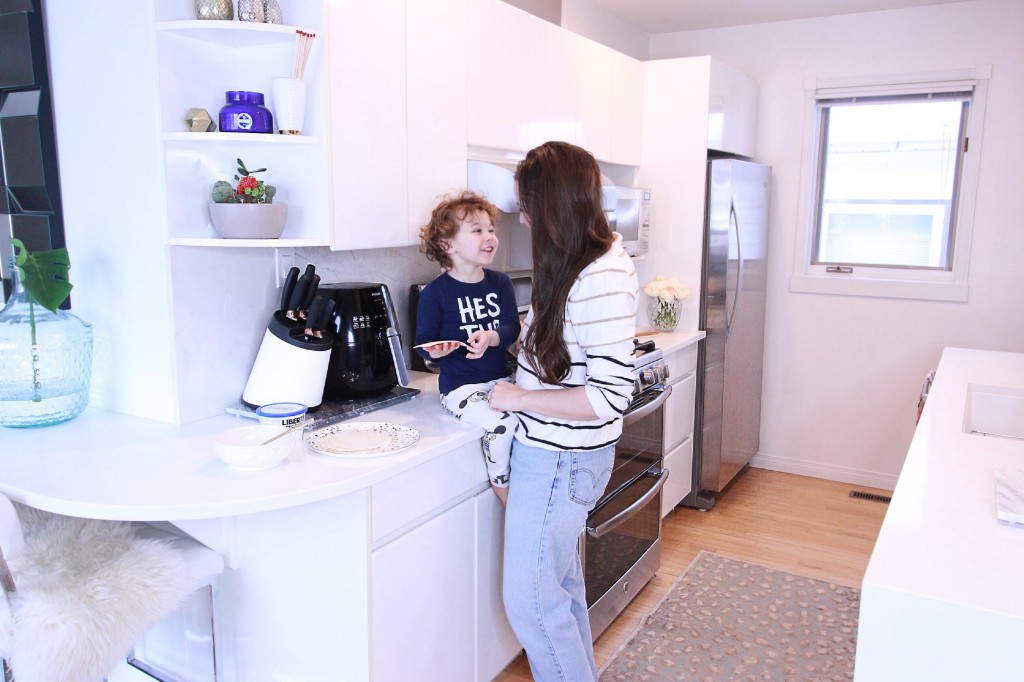 I've got a little helper in the kitchen for this quick and easy recipe our family loves. We recently added the GE Series 30″ Free-Standing Double Convection Range to our kitchen and I couldn't be more excited to share how we are grilling indoors without the use of a BBQ! With it's duel purpose oval centre burner I can easily grill directly on the extra large cast iron griddle. It gives me the versatility of a chef with multi levels of heat ranging from the slightest melt or simmer to a full on grill or fast boil. It's easily becoming my favourite appliance in the house.
For this recipe we grilled our steaks directly on the stove top and seamlessly transferred the cast iron griddle into the gliding rack to finish the steaks in an evenly heated convection oven. It was that simple.
Easily one of our family favourites the past year is this greek fusion taco recipe. Perfect as a summer dinner or a fancy appetizer for larger scale events. Fire up the GE stove top grill and get your sizzle on! 
You'll Need: 2 large grilling steaks, 1 small container of mini tomatoes of your choice (yellow heirloom pictured) , goat feta, cucumber, Epicure's Souvlaki Seasoning, greek yogurt, spiral slicer and a cast iron grill.
What You'll Need To Do: 
1) Dice tomatoes, crumble cheese and finely cut cucumber. I used a spiral vegetable slicer on my cucumber.
2) Season steaks with Epicure's Souvlaki seasoning.
3) Sear steaks on stove top high heat. I try to get all sides 1-2 minutes each, depending on thickness. I finish in the oven for 5 minutes at 400 (Celsius). You are going for a medium rare or personal preference.
4) Allow steaks to rest for 5 minutes, then cut into thin strips.
5) Serve all ingredients on a warmed soft taco.
Variations: Can be served on warmed peta bread. Tzatziki flavoured greek yogurt is great as a sauce. (Pictured below)
Ready in 20 minutes!