I'll be the first one to admit, taking care of myself has fallen a bit to the wayside in the past 4 years. Since having kids I've struggled to find time for myself. This season  I made a goal to start the transition into a healthy balance of self care. It is so important, in hopes it'll help me be an even better mommy. If I'm healthy, mentally rested and cared for… I will be able to give more of myself to these precious little guys. My best self is what my goal is all about.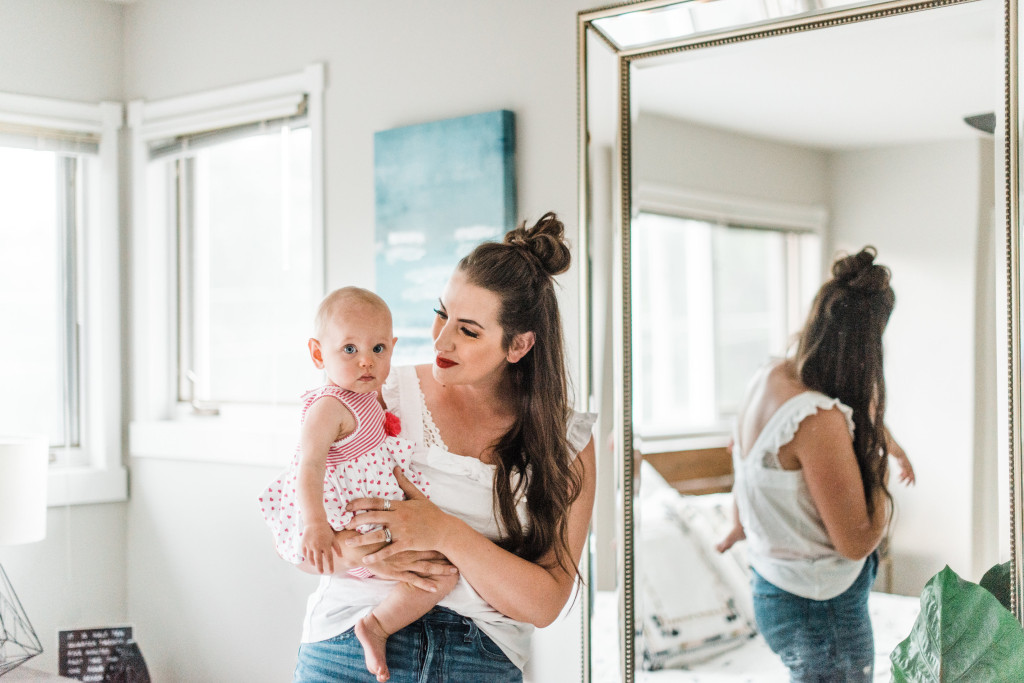 This week I got a sitter for two hours and headed off to Lipstick Empire for some me time. I shared my experience on my IG stories, I was overwhelmed by the response. So many of you feel the same way; it's hard to get away for to the spa, a hair appointment, even a coffee alone! So thankful for the positive support of this me time movement. I know it was only two hours away but I needed it. So many of you had questions about the treatments, so I thought I'd try to answer them all in one place, welcome to my Laser Spa Q&A:
Lipstick Empire LaserSpa is a full service med-spa that offers everything from facials, makeup applications to advanced laser treatments as well as Botox and Filler treatments.
All of their Medical Aestheticians and Laser Technicians are highly trained in the field of Medical Cosmetics with experience ranging between 5-10 plus years in the industry.
The devices and the technology used at Lipstick Empire have been handpicked to deliver unparalleled results with little to no downtime required.
Not all machines are created equally so please ensure that you do your research: not only on the machines being used in your service but your technicians skill level to ensure your safety and to ensure you receive the most effective/efficient treatment possible. I have had very bad Groupon experiences years ago, one was a laser hair removal nightmare, burns from a laser facial and a lash extension horror story. I really wanted to speak to this point, it is important to have treatments done by people who actually know what they are doing! Learn from my painful mistakes and find a reputable spa using machines that work and techs that know what they are doing. These machines can have amazing results but they are powerful, so in the wrong hands you can do damage to your skin. If you aren't local, read through reviews from multiply source sites. Call and ask questions. Go in for a consult to check the place out yourself.
What did I have done?
I had GentleMax Pro Laser Hair Removal with a laser by Syneroncandela Canada.
The GentleMax Pro delivers fast and efficient results for laser hair removal. It has a dual wavelength which is great for ALL skin types. It does not work on blonde or grey hair but they have a treatment called Dermablading that takes care of that.
How many treatments do I need and does it hurt?

Typically most people need 6-8 treatments per area to removal the hair. Treatments are done at 4-6 week intervals to target the hair when it is in the growing stage. It did hurt in some spots more compared to others. But it is over in seconds. I wasn't red or swollen by the evening. I would say waxing hurts just as much for me, but this will solve my problem while regular waxing appointments will not.
How much is it? 
Price point varies depending on the area being treated. They do have a promo on the website currently but I don't know how long will last. Contact a Lipstick Empire Representative via Instagram @lipstickempire, by email at LaserSpa@lipstickempire.ca or give them a call at 587 523-LIPS (5477) for more information and in house specials. They do not charge for a consultation.
Disclaimer: This post was NOT paid by Lipstick Empire but I did receive complimentary services to try. My thoughts and opinions remain my own.