When I first shared this concept on my Instagram Stories in October, I had tons of interest in how it went but I also got a handful of concerns. So I thought I'd address those right off the hop, no I am not painting family heirlooms or priceless collectables. We do have a lite Christmas village that I would never think of painting and YES it's my biggest pet peeve when influencers paint everything white… including things that are of value or priceless vintage finds. I assure you these houses are cheap and not collectable! With that being said, let's chat about my DIY spray painted white minimalist christmas village project. When I say more neutral houses spring onto the decor scene last year from Pottery Barn and Homesense, I knew they would fit our mantel so well. BUT the price tag was too steep and unfortunately they didn't go on major clearance after the holidays last year. So I decided to find a few cheap tea light christmas houses from Kajiji to paint myself. I bought these for $5 and under… but I know if i had been proactive I could have probably found a few in garage sales over the summer for less. Less detailed options can sometimes be found at your local Dollar Store too.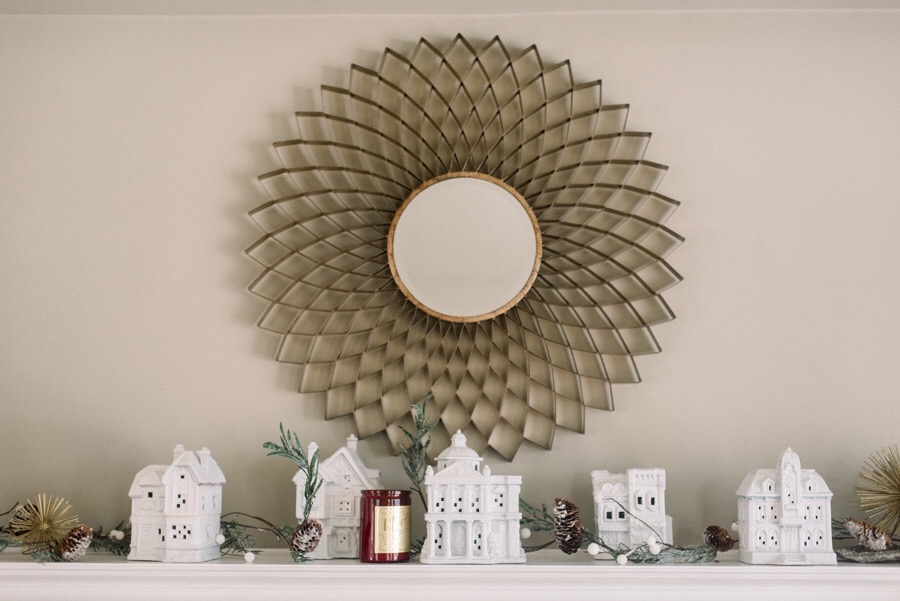 I used half a can of Rustoleum Painter's Touch 2X in a flat white / satin finish. I felt not using gloss kept them more modern and minimal in appearance but that's just my preference. These are sprayed in "blossom white" or a flat white. 2 coats were applied.
When spray painting any project, I suggest starting your spray away from the item, then slowly moving closer. This can hopefully help with large drips and saturation problems. I did two light coats and allowed to dry for a few hours between each, then for a full 24 hours after the final application.