In the past I'll admit I was an over packer! Now that I travel quite often I've started to pick up a few tricks along the way. On a tropical vacation I will pack two statement pieces that can be dressed up or down. One of them for this trip to Maui was this silk jumpsuit from J.Crew. Perfect for an easy breezy afternoon of strolling the markets but can easily be dressed up with a heel, bold bright lipstick and my hair down for an evening dinner out.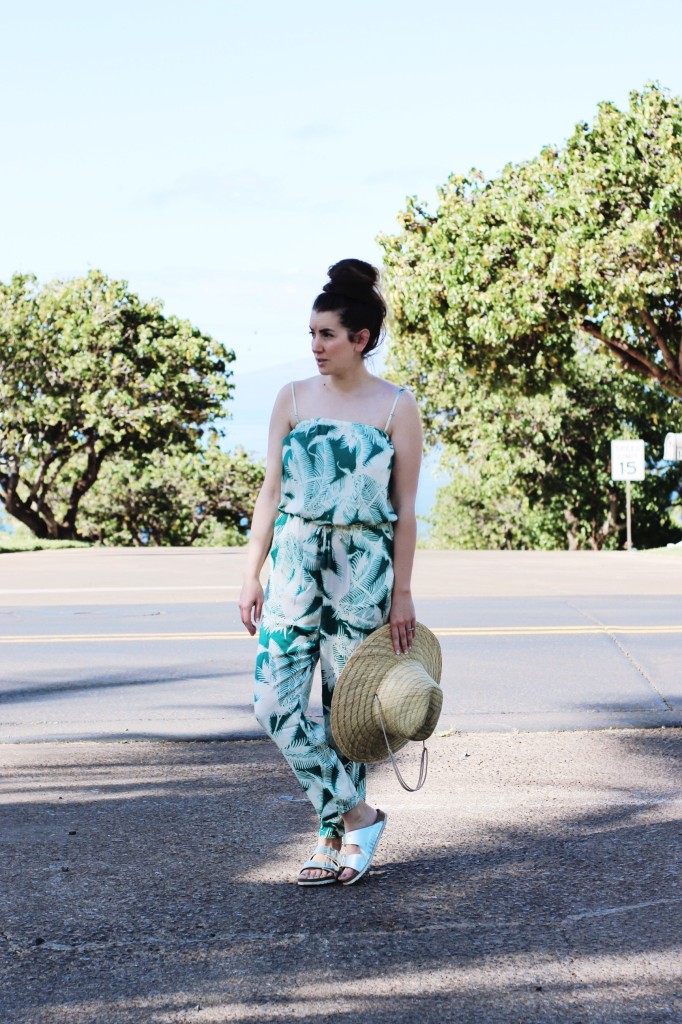 We all know I'm a beauty junkie but less is more when it comes to packing product for a trip. I like to focus on the basics ensuring I pack product that have impact and duel purpose.
For daytime, I packed my favourite Olay eye cream and it doubled as my full face cream for the trip. An easy brow palette and shaping kit by Benefit. Plus a highlighting palette from Hourglass, not only did I use this one for my face but it also doubled as eyeshadow. Finally, for night I add a full coverage foundation and several lipstick shades.
For my hair I used Invisibobble traceless hair rings to do effortless undo's without bobby pins. Plus, these ties do not leave kinks in your hair so I could easily take your hair down for dinner at night. I love a good beach spray too.
Shoes are your enemy when packing light. They take up tons of space and most are heavy. I packed 1 heel in a neutral, these metallic flats and I wore a sneaker on the plane. Think day, night and activewear. And if you keep these picks in the metallic or neutral range you are golden.
Don't pack hats! I scored this one at a market for $12. Don't pack shampoo, conditioner and body wash. Just pay a visit to grocery store and purchase some once you are there… commit to affordable choices that you will leave behind.
When you are finished packing you should have 1/3 of your luggage free because you may want to bring home a few shopping scores on the way back. If you luggage is completely full, do one more edit and ask yourself with each piece if you actually will wear out? Do you really need 3 cardigans or just one in a neutral?